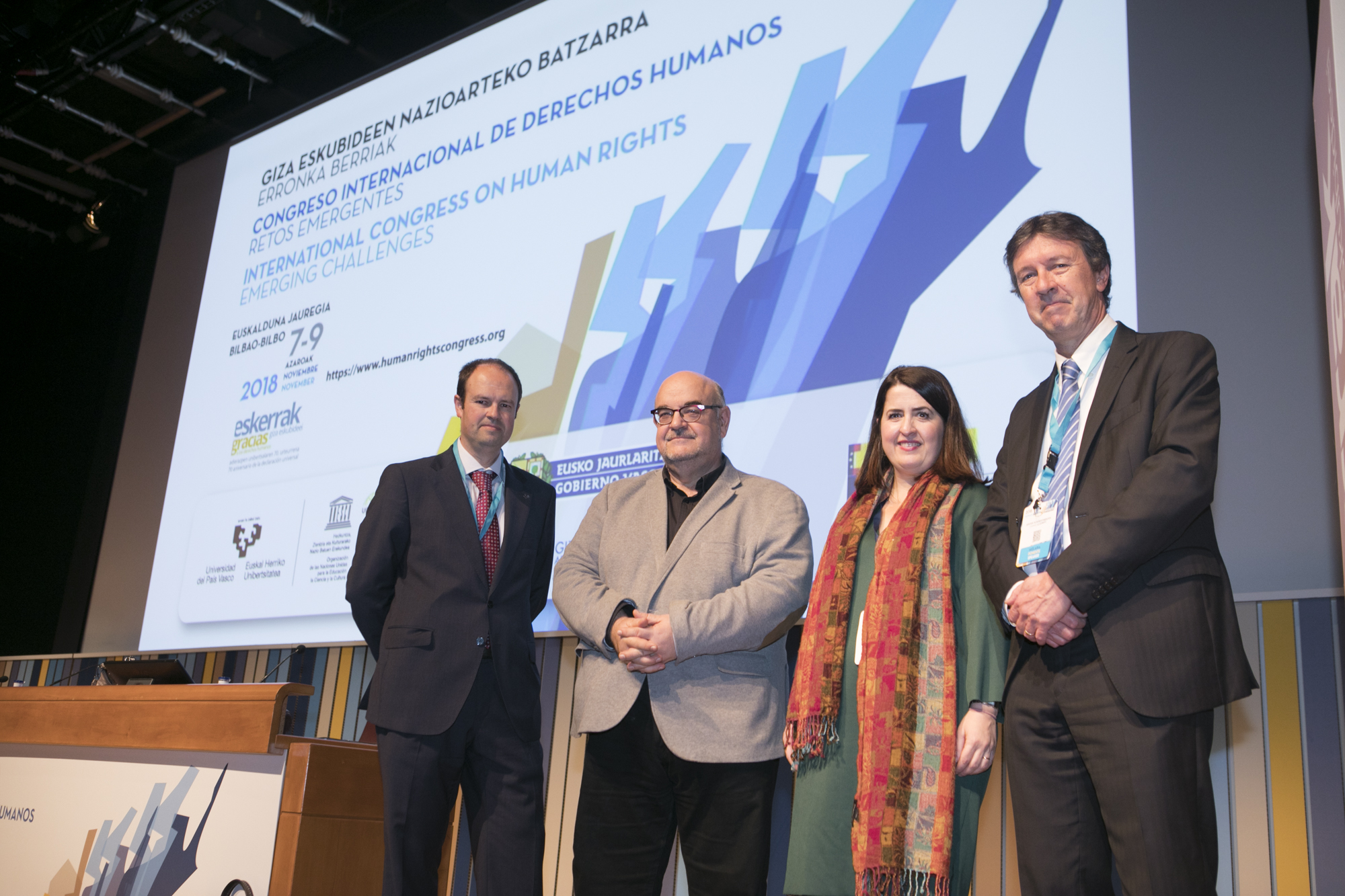 REPORT International Congress on Human Rights: Emerging Challenges
INTERNATIONAL CONGRESS ON HUMAN RIGHTS: EMERGING CHALLENGES

70th Anniversary of the Universal Declaration of Human Rights (1948-2018)




EUSKALDUNA PALACE (Bilbao)

7th, 8th, and 9th NOVEMBER 2018

ORGANISATION:

General Secretariat for Human Rights, Coexistence and Cooperation

Chair for Human Rights and Public Authorities UPV/EHU
Kongresu honek azpimarratu du Giza eskubideen nazioarteko zuzenbideak funtsezko tresna izaten jarraitzen duela, zailtasunak zailtasun, estatuen botere gehiegikeria mugatzeko eta baita hauen axolagabetasunari aurre egiteko.

Su compromiso con los derechos y libertades, sin preguntar por la raza, género, origen o situación de las personas, nos llama a reforzar los mecanismos de protección que ofrece. Y es ése, precisamente, el compromiso común a las 13 ponencias y 60 comunicaciones que se han presentado durante el Congreso.

Being aware that human dignity and the inalienable rights of every person must be protected through law, the International Community took a step forward 70 years ago, in building a legal and political framework which aimed at guaranteeing a universal mínimum level of protection of fundamental rights.

Totalitarismoaren krudelkerien irakaspen historikoaren aurrean, estatu mugen menpe ez dauden funtsezko eskubide eta askatasunak guztioi dagozkigula adierazi zuten Giza Ezkubideen Aldarrikapen Unibertsalean. Elkarrekin erlazionatuta dauden eta elkarren mendekoak diren eskubide zatiezinak dira.

Con los dos Pactos Internacionales, el de Derechos Civiles y Políticos, y el de Derechos Económicos y Sociales, se crearon también organismos internacionales de control que han definido progresivamente el núcleo de los derechos fundamentales.

An idea underlying this Congress is that the very concept of human rights does not only reflect the value of being a right-holder, but also the human duties to others. It is not a selfish concept. It reinforces human solidarity while respecting individual autonomy.

 Baina giza eskubideen inguruko hitzarmen hori testuinguru nahasi baten aurrean dago, nazioarteko babes sistemaren zilegitasuna bera zalantzan jartzen den honetan.

Esa crisis se refleja en los tres grandes retos en los que se ha centrado el Congreso: en la tensión permanente entre libertad y seguridad, en la que tiende a olvidarse que no existe seguridad sin garantías; también en el reto de los refugiados, para quienes la Comunidad internacional es incapaz de acordar sistemas de protección adecuados. O, en definitiva, para quienes ven sus derechos económicos y sociales vulnerados día tras día, año tras año.

    Zailtasunez beteriko testuinguru horretan, Kongresu honek Giza Eskubideen Nazioarteko Zuzenbidearen lorpenak gizarteratzearen aldeko apustua egiten du, eta azpimarratu du nazioarteko zuzenbideak eskaintzen dituen babes mekanismoak indartzen jarraitu behar dugula. Giza eskubideen kultura zabalduz, paperean egotetik persona guztien egunerokotasunean izatera igaro daitezen.

    To this end, some legal and political responses have been given in the light of the spirit of the Declaration that, 70 years ago, committed itself to the equal and unalienable rights of all members of the human family.
Eskerrak giza eskubideei. Gracias a los derechos humanos. Thanks to human rights.





For more information and registrations click the following pdf 



See PDF